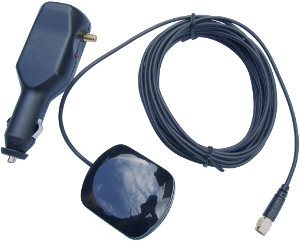 RA50 re-radiating antenna
by GPSOZ Solutions
Want to improve your GPS reception?
Can't get that signal due to something over head, eg large roof rack?
Your GPS doesn't have an aerial connection?
Then the RA-50 re-radiating antenna is what you need.
The RA-50 is a complete GPS (L1 band signal) re-radiating unit with dual antennas to re-transmit in real-time GPS satellite outdoor reception to an indoor environment. The re-radiating internal antenna allows multi GPS receiver users to perform on-the-fly normal receiver performance within a closed environment, (eg inside a vehicle) while the main GPS antenna is located outdoors.
The RA50 includes a high gain external GPS antenna, precisely calibrated amplifier circuit with Helix type indoor antenna and a power supply regulator built-in.
Locate external antenna outside the vehicle on metal surface, roof is ideal 
Connect cable to radiating device and plug same into 12/24v cig plug
Done!


You now have a very strong GPS signal up to 1-1.5m  away from the radiating aerial.  

Suitable for use with:
Hema HN 5/6/7 HX-1, HX-2
VMS Touring series, 3DX
TomTom
NAVMAN
Garmin
any GPS without an antenna socket
Works with following GPS systems:
GPS(US)
GLONASS (Russia)
Galileo (EU)
BeiDou (China)
Product fact sheet: